ARCHIVE
︎︎︎︎︎︎︎︎︎︎︎︎︎︎︎︎︎︎︎︎︎︎︎︎︎︎︎︎︎︎︎︎︎︎︎︎︎
THIS THING
2020
Prototype for new work.
︎︎︎︎︎︎︎︎︎︎︎︎︎︎︎︎︎︎︎︎︎︎︎︎︎︎︎︎︎︎︎︎︎︎︎︎︎
SELFLESS DRIVING CAR (in Development)
2019
prototpyping and testing of the Selfless Driving Car project.
Exploring utopian ideas of the internet as a symbiotic system in a time when the virtual realm continues to penetrate our physical existence. Selfless Driving Car proposes a platform for a public experiment with very real world consequences - allowing anyone to vote on the position of my steering wheel in a moving vehicle.
2020 Manual
︎︎︎︎︎︎︎︎︎︎︎︎︎︎︎︎︎︎︎︎︎︎︎︎︎︎︎︎︎︎︎︎︎︎︎︎︎
FARBEN LICHT SPIELE
2019
A modern recreation of Ludwig Hirschfeld Mack Farben Licht-spiele.
Comissioned for the
Bauhaus Now
touring exhibition
︎︎︎︎︎︎︎︎︎︎︎︎︎︎︎︎︎︎︎︎︎︎︎︎︎︎︎︎︎︎︎︎︎︎︎︎︎
FREE MUSIC MACHINES
2018
A reconstruction of Percy Grainger and Burnett Cross's 'Free Music Machines'.
Comissioned By the
Grainger Museum
, in collaboration with
Rosalind Hall
︎︎︎︎︎︎︎︎︎︎︎︎︎︎︎︎︎︎︎︎︎︎︎︎︎︎︎︎︎︎︎︎︎︎︎︎︎
HEAVY METALS
2015
Built and Installed in an illegal mining town in the Amazon (
Huepetuhe
) Heavy Metals is a device which elevated an existing statue of a gold miner to an angelic silhouette using six mercury vapour lamps on automated wings.
Mercury evaporation in these mining procedures remains the most detrimental environmental concern despite vast deforestation. The bulbs used in this device use a gaseous mixture of vaporized mercury, mechanically rising and falling behind the statue, simulating the evaporation of mercury vapor from gold amalgam into the environment.
︎︎︎︎︎︎︎︎︎︎︎︎︎︎︎︎︎︎︎︎︎︎︎︎︎︎︎︎︎︎︎︎︎︎︎︎︎
BIG DIPPER (unit 1)
2014
The first unit of Big Dipper fabricated in Fort Kochi India.
As part of the
KochiAIR
residency.
︎︎︎︎︎︎︎︎︎︎︎︎︎︎︎︎︎︎︎︎︎︎︎︎︎︎︎︎︎︎︎︎︎︎︎︎︎
CRPT
2014
Installed within the exclusion zone of the 2014 G20 Summit in Brisbane; CRPT modules (Covert Remote Protest Transmissions) were distributed throughout the city. The units consisted of a cell phone activated slide projector fitted inside a CCTV camera housing. The phone numbers which allowed users to activate the units were to be distributed through social media, allowing anyone to protest within the prohibited zone.
Built in collaboration with
Dirtywork
︎︎︎︎︎︎︎︎︎︎︎︎︎︎︎︎︎︎︎︎︎︎︎︎︎︎︎︎︎︎︎︎︎︎︎︎︎
MOS (Mountain Operated Synthesizer)
2013
MOS (Mountain Operated Synthesizer) is a device that uses an array of sensors and analogue components to make the environmental changes in the earth and air of the Merapi Volcano audible.
"Developed as a response to the extremely lively, fertile and volatile site itself. The work is intended as an offering to the mountain and to the people who might happen to encounter the work while walking up. MOS is a synthesiser built for the mountain itself to play and perhaps express its nature.
The second base camp is about 2000 meters up the active volcano and takes approximately 3 hours to hike. The work is powered by solar and is installed with the intention to remain there." - Pia

in collaboration with
Pia Van Gelder
and
Andreas Siagian
as part of the
instrument builders
residency.
Articles:
ABC
JAKARTA GLOBE
︎︎︎︎︎︎︎︎︎︎︎︎︎︎︎︎︎︎︎︎︎︎︎︎︎︎︎︎︎︎︎︎︎︎︎︎︎
GOLDEN ORBS
2013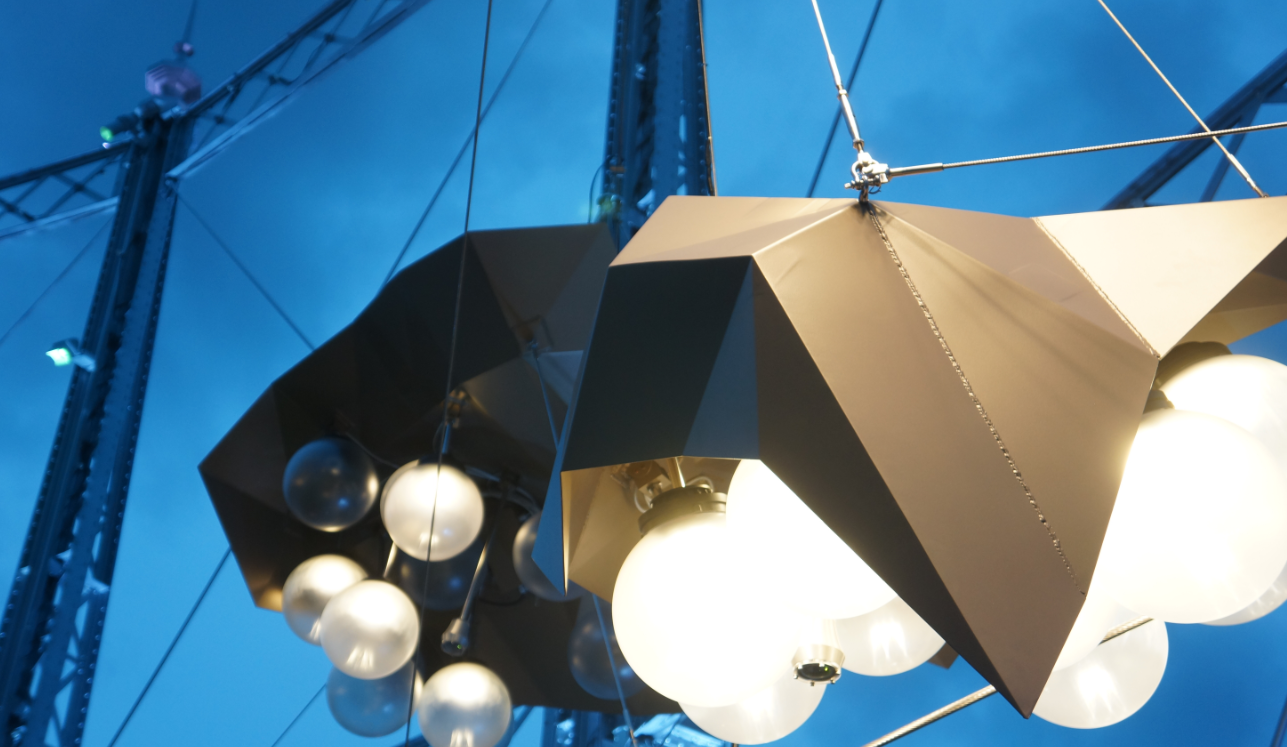 Golden Orbs is a permanent interactive light installation built in collaboration with artist
Meagan Streader
. The installation consists of a series of 10 interactive LED light clusters which hang from fractal-like, aluminium sculptures. Each sculpture, fitted with a webcam and microprocessor, monitors the space beneath for physical activity. When human movement is detected it is translated into an energy level which drives the intensity of the light sequence. The excitation of a single cluster raises the energy of those immediately adjacent via a wireless network; resulting in emergent behaviour and unique lighting patterns throughout the installation.
︎︎︎︎︎︎︎︎︎︎︎︎︎︎︎︎︎︎︎︎︎︎︎︎︎︎︎︎︎︎︎︎︎︎︎︎︎
CONCEPT 1
2012
Concept 1 presents a synthesized experience to plants via data gathered from plants. Solar powered accelerometers wirelessly relay the swaying motion of tree branches to corresponding kinetic sculptures which mimic the movements electro-mechanically. Each sculpture hosts its own micro environment of plant life atop its mechanical branch inside a terrarium. These plants are given an augmented experience of natural movements through the wind via organically captured data.
studio test footage
here
︎︎︎︎︎︎︎︎︎︎︎︎︎︎︎︎︎︎︎︎︎︎︎︎︎︎︎︎︎︎︎︎︎︎︎︎︎
FERROKH & KLAUS
2012
Ferrokh and Klaus Use simple cellphone activation technology (similar to terrorist IED Detonators) to systematically destroy fluorescent bulbs and televisions. Both of these commodities being destroyed contain commonly known harmful gasses, activation numbers were displayed with the work; allowing users to destroy at their own ease whilst potentially harming themselves and other spectators in the process. This linear mechanical interaction perpetuated into a riot on the opening night in which all work in the gallery was destroyed.
Built as part of the
"age of ease"
for
time machine
︎︎︎︎︎︎︎︎︎︎︎︎︎︎︎︎︎︎︎︎︎︎︎︎︎︎︎︎︎︎︎︎︎︎︎︎︎
VENUS
2012
Venus is metamorphic; melding organic structures and patterns with an articulate robot body. The sculpture is inspired by plant life, specifically the Venus fly trap. Embedded with an array of ultraviolet light sources the Venus is designed to attract flying insects and interact with them through sound and movement. The sculpture shifts and transforms according to the presence of movement (humans or insects).
VIDEO
︎︎︎︎︎︎︎︎︎︎︎︎︎︎︎︎︎︎︎︎︎︎︎︎︎︎︎︎︎︎︎︎︎︎︎︎︎
BITTER BENCH
2012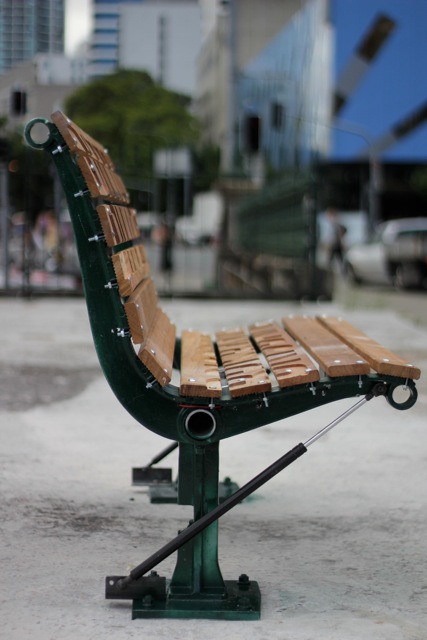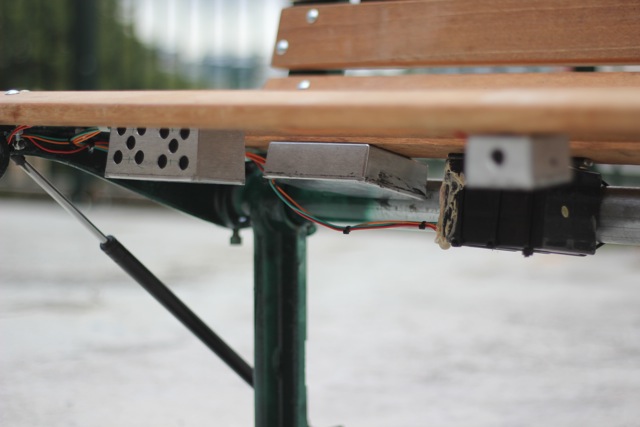 Bitter Bench
was installed in a site where an old Brisbane city tram stop/shelter once was. Several years ago this heritage listed structure, which often sheltered homeless people, was removed in one of the council's efforts to "clean up the city". Illegally installed as a retaliation to the removal of the shelter this bench housed a proximity activated audio system playing prerecorded testimonials from homeless people who remember the past structure. The installation also contained a council plaque insinuating the new bench installation was mayor Campbell Newman's penance to the homeless, yet the bench was articulated in a manner that made it impossible to use.
The installation lasted two days before it was removed.
- Collaboration with
Dirtywork
︎︎︎︎︎︎︎︎︎︎︎︎︎︎︎︎︎︎︎︎︎︎︎︎︎︎︎︎︎︎︎︎︎︎︎︎︎
UNTITLED SOUND PROJECT
2011
supplying electricity to organic material creates a resistance in current, almost all organic material is conductive to some degree. Untitled sound project is a minimal installation allowing users to connect a circuit at different stages by pressing keys, resulting in a tones specific to the resistance of each fruit or vegetable. Effectively playing organics from your local grocer, the project is informed by the controversial experiments recorded in 'the secret life of plants'.
︎︎︎︎︎︎︎︎︎︎︎︎︎︎︎︎︎︎︎︎︎︎︎︎︎︎︎︎︎︎︎︎︎︎︎︎︎
THE COLOUR AXION
2011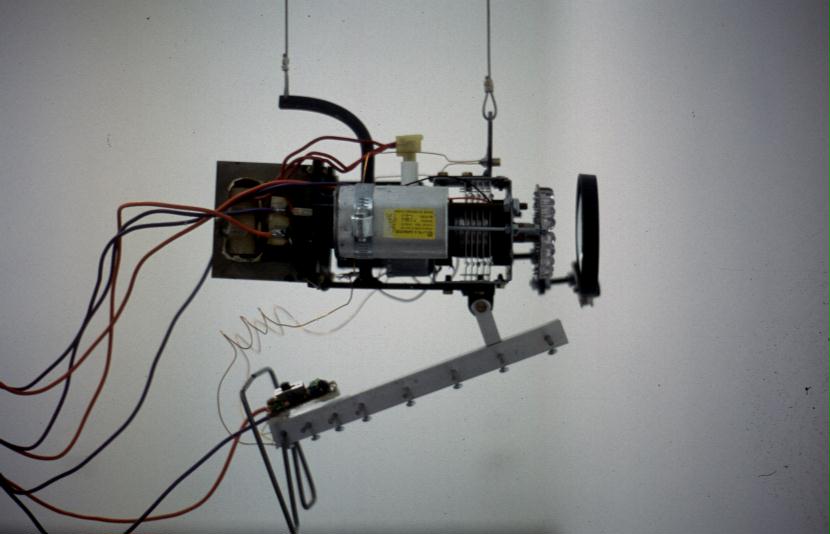 The colour Axion is a device built to recognize a reality outside of empirical media. Radiating non-visible wavelengths of the electromagnetic spectrum to create a hypothetical new colour named after a hypothetical elementary particle; The Axion.
"Colour and light are the fundamental elements of observation; but as humans, aided by the use of technology and science, endeavor into ever more elaborate forms of exploration we find there is a multitude of realities beyond what is visible to us. Tiny particles, waveforms and magnetic fields - all basic elements of physics only made visible by experiments and theories. Begging the question of what constitutes an authentic experience of reality when so much goes unseen."
-
Me
*black and white images taken with Infrared sensitive film.
︎︎︎︎︎︎︎︎︎︎︎︎︎︎︎︎︎︎︎︎︎︎︎︎︎︎︎︎︎︎︎︎︎︎︎︎︎
UNIVERSAL TRAVELER
2010
A user operated walking device, universal traveler remains stationary until a participant sits in it and operates the handles bringing 6 mechanical legs to life.
︎︎︎︎︎︎︎︎︎︎︎︎︎︎︎︎︎︎︎︎︎︎︎︎︎︎︎︎︎︎︎︎︎︎︎︎︎
BROCCOLI HANDSHAKE
2010
Broccoli Handshake brings to life over 800 incandescent bulbs. Simple triggers activate bulbs as spiraling terminals rotate to connect circuits.
︎︎︎︎︎︎︎︎︎︎︎︎︎︎︎︎︎︎︎︎︎︎︎︎︎︎︎︎︎︎︎︎︎︎︎︎︎
︎